Post by teson1 on Oct 28, 2013 14:38:41 GMT -5
In 1960 Don Sheldon played a key role in the rescue of several injured climbers from Mt. McKinley.
During this rescue he landed several times on a glacier shelf on the West Buttress in his Super Cub, higher than anyone before on the mountain.
This landing should provide for a decent challenge for most of us.
It combines landing at very high altitude, close to the ceiling of most of our planes, on a steeply sloped snow surface, which is just about 2000 ft long.
I found the best, most consistent approach to be the one Mt McKinley expert Bradford Washburn described to Sheldon when asked by telephone for his recommendation before the flight:
Get 15,000 feet of altitude as you fly up Kahiltna (glacier) and fly due north until you're over (Kahiltna pass).
Now turn your airplane exactly 90 degrees to the right, and directly in front of you will be a large triangular pyramid ...
Fly directly toward it until you are really close, drop some power, pull on your flaps, and fly around the right-hand side of the pyramid.
Right in front of you will be your landing spot.
You can read the account in "
Wager with the Wind: The Don Sheldon Story
" by James Greiner (good book!)
(A few pages will be missing due to Google Books' limited preview policy, but it's just enough to wet the appetite to get the hardcopy ...)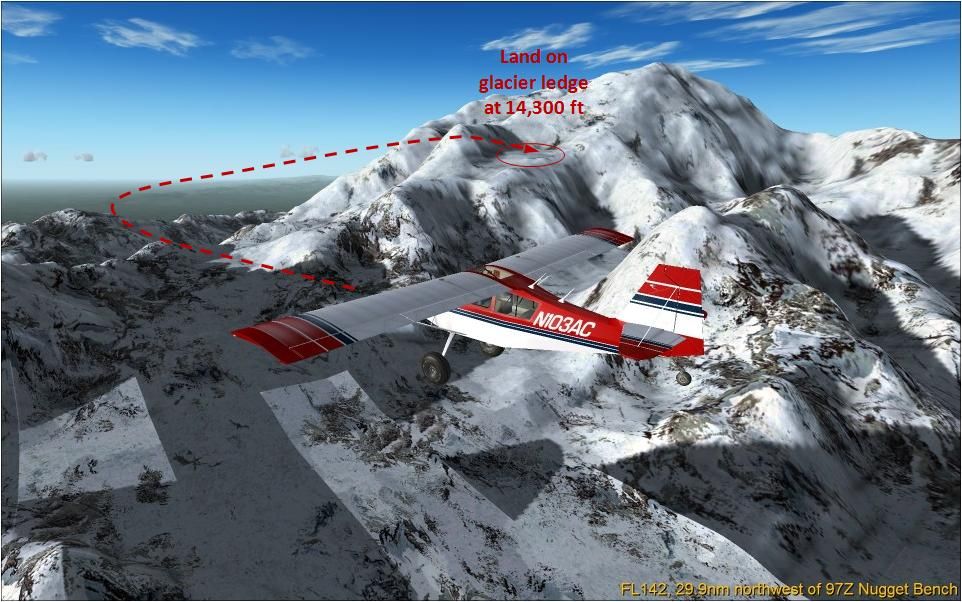 Duenna will only register a landing when the speed is close to zero.
So when slowing down after the landing steer the plane directly up the slope, avoiding to slide sideways, until you've stopped (you'll need some power to avoid sliding backwards at that point).
You can also then turn the plane perpendicular to the slope to be able to shut off the engine without the plane wildly sliding downhill.
If Duenna doesn't stop by itself, don't hesitate to pause the flight and hit Duenna's "Abort" button (after all this flight is not tracked).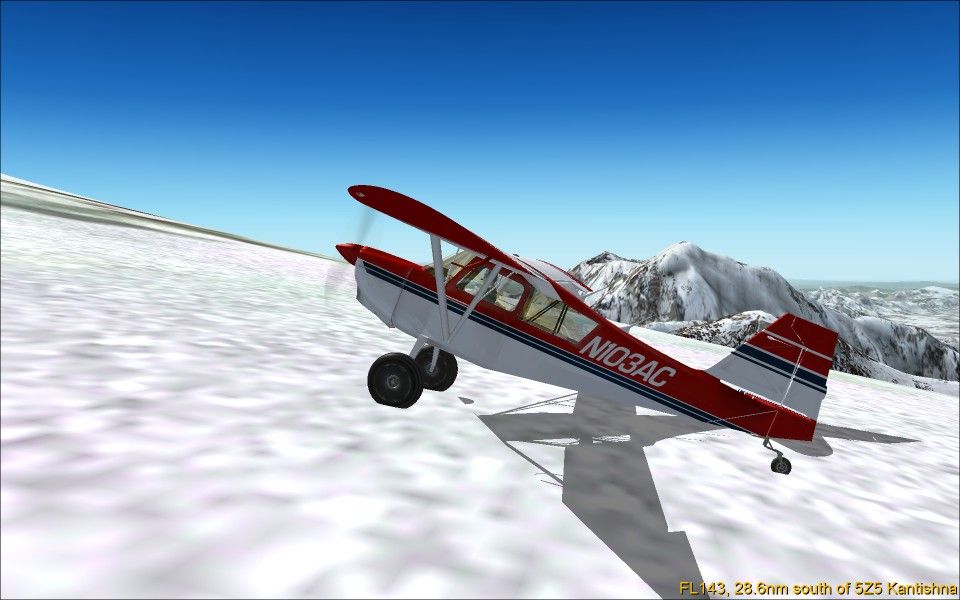 For those interested, here is some more background information:
A nice
RW photo of Denali
showing the landing site.
1960 Time Life article
on the rescue.
AlaskaDispatch article
on the rescue.
1964 Time Life article
on Don Sheldon.
Enjoy the flight !